Family holidays in Hotel & Guesthouse Gribelehof
Still as beautiful as it always was
Many of our regular guests have been coming to us since childhood. They remember it from years gone by and know how beautiful it was then. And they can see how beautiful it remains today – at the Gribelehof in Lienz. The Art Nouveau villa on the Schlossberg has been lovingly renovated and restored. The whole house is steeped in history. The unique atmosphere is carried gracefully by your hosts at the Gribelehof: they work with a love and passion to provide you with unforgettable holiday memories.
We particularly enjoy welcoming families in the Gribelehof: Old and young appreciate the peacefulness around the house and farm. Children can enjoy the large playground in a safe environment close the sunny terrace. The adjoining farm offers a small petting zoo. We deliberately avoid a large entertainment programme for children, here they are allowed to be children: enjoying outside sports in the countryside or playing indoors.
Children refresh our lives and fill our hearts with delight
- The Nothdurfter family, your hosts -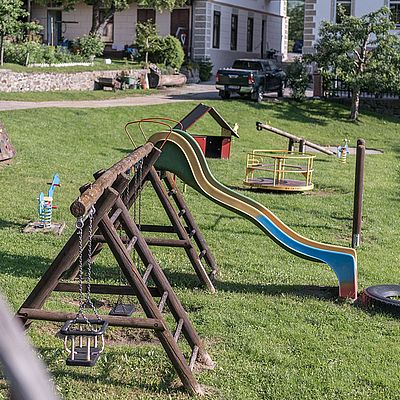 Holiday with children at the Gribelehof
Great reasons for a family holiday
COSY ATMOSPHERE. The Gribelehof is a family run business and is exceptionally family friendly. Your hosts always like to listen to their guests and help to fulfill any special needs of families with children.
PROTECTED AREA. The Gribelehof is surrounded by unspoilt natural countryside. Children can run and frolic about in safe surroundings. As parents you can sit untroubled on the sunny terrace and observe your children from a distance.
SPACIOUS FAMILIY ROOMS. Our family rooms offer both big and small enough room to relax. Two separate bedrooms or a large living room and main bedroom.
BIG ADVENTURES FOR SMALL ADCENTURERS. The region around Lienz has a lot to offer small adventurers. Apart from the classic activities such as hiking and mountain biking in summer – you have opportunities to enjoy the untouched beauty of the countryside.