Hotel & Guesthouse above the rooftops of Lienz
A very special area
For over 50 years the Gribelehof has been owned by the family, for over 100 years guests have been made welcome on the Schlossberg by Lienz. Just how special this place is can be seen by taking a look back into history. It was a stormy night many years ago. The wind howled and roared over the mountains. The grandmother of the family - Katharina Nothdurfter – shivered in her house and prayed that nothing would damage the house and farm.
Her prayers were answered: left and right from the Gribelehof were mudslides leaving behind a path destruction. The Gribelehof remained undamaged, Katharina instructed her sons to construct a monument to thank God for leaving the house and farm unscathed. Her sons liked to think big: they built a chapel and dedicated it to the holy Katharina their mother's namesake.
You can feel the energy of this special place
- Margit Nothdurfter-Stotter, Hostess -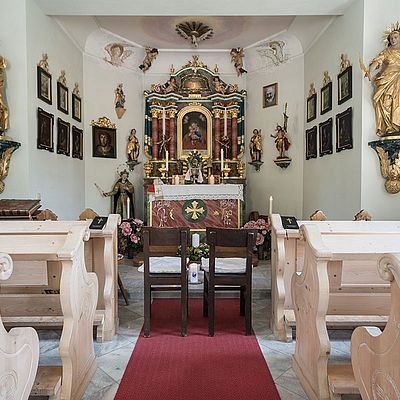 Dedicated to the holy Catherine
The chapel
Catherine of Alexandria devoted herself to study. She is known as the patron saint of nurses, philosophers, preachers and scholars. After refusing to marry the emperor, declaring her spouse was Jesus Christ, the furious emperor condemned Catherine to death on a spiked wheel, but her touch shattered the wheel. He then ordered her to be beheaded. The pyrotechnic Catherine wheel, which rotates with sparks flying off it, took its name from the saint's wheel of martyrdom.
Celebrations & Festivities
In the house chapel
The chapel situated close to the Hotel & Guesthouse Gribelehof can be hired for private celebrations. The chapel is built in a classical style and provides a perfect environment for weddings, christenings and other ceremonies. The chapel has room for groups of up to thirty people.