Art Nouveau villa on the Schlossberg from Lienz
Hotel with charm and character
The Gribelehof is a place where the good things are long lasting: In the turn of the century villa on the Schlossberg from Lienz a small family run hotel consisting of only 18 bedrooms and 2 holiday apartments is located. Many regular guests have known our house since childhood and keep returning due to the unique atmosphere and the exceptional views. Their parents were greeted by members of our family on the large sunny terrace.
Enjoy distancing yourselves from the daily routine and embracing the breathtaking views over the city of Lienz and the Lienzer Dolomites like so many guests before and after you have done. Your hosts will spoil you with attentive service. The house is run by Michael and his sister Margit. Michael looks after the physical well-being of his guests, while Margit makes sure that every guest in Hotel & Guesthouse Gribelehof is made to feel comfortable and welcome.
Our holiday offer
An endlessly wonderful time
Our guests keep returning, because this special area is unforgettable
- Margit Nothdurfter-Stotter, Hostess -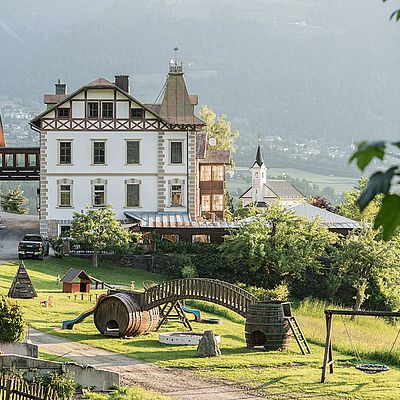 Moments to enjoy in Gribelehof
Great reasons for your holiday
FEEL GOOD IN A FAMILY RUN HOTEL. We personally care for the well-being of our guests. Your host family, work with a love and passion to ensure your holiday in Hotel & Guesthouse Gribelehof is exceptionally well prepared.
LIVING IN A HISTORICAL AMBIENCE. Our 18 bedrooms and family rooms are situated in a turn of the century villa. The flowing shapes of the art nouveau style are designed to bring nature into an industrialized world. Around 1900 this style was known as "Modern Style", today it is just timelessly beautiful.
VIEWPOINT OVER THE CITY. From our sunny terrace you can enjoy a panoramic view over the city of Lienz and the Lienzer dolomites. We are happy to serve you our sunshine breakfast outdoors in summer. Coffee and cake can be enjoyed while the children are busy playing in the park.
HIKING IN THE COUNTRYSIDE. Our hotel is situated close the Schloßberg cable car on the local mountain Hochstein. This brings you directly into a natural paradise. Numerous hiking routes and mountain bike routes begin on the Schlossberg. Alternatively the city is only a twenty minute walk away.
WINTER SPORTS IN EAST TIROL: Out of bed and on to the slopes? That's a promise that we in the Hotel & Guesthouse Gribelehof can honestly keep! One ski run directly passes our house. The Schlossberg cable car is just a few turns away from our Hotel and farm.